The Delphi XG Rangecooker is Britannia's triumphant answer to large scale family cooking. The cooker's 110cm width places it on the larger end of the scale compared to the standard range sizes which are usually 90 - 100cm. Don't be fooled, the larger than usual size means that you will benefit from two huge ovens, 42 and 52 litres in capacity which are perfect for handling the cooking for a dinner party or roast in one fell swoop. In fact, roasts are not the only thing that the XG can take care of, with no less than 9 different cooking programs, there is not much that this range cooker can deliver and there are many different features that reflect Britannia's intent to make the XG as much about quality cooking as opposed to just quantity.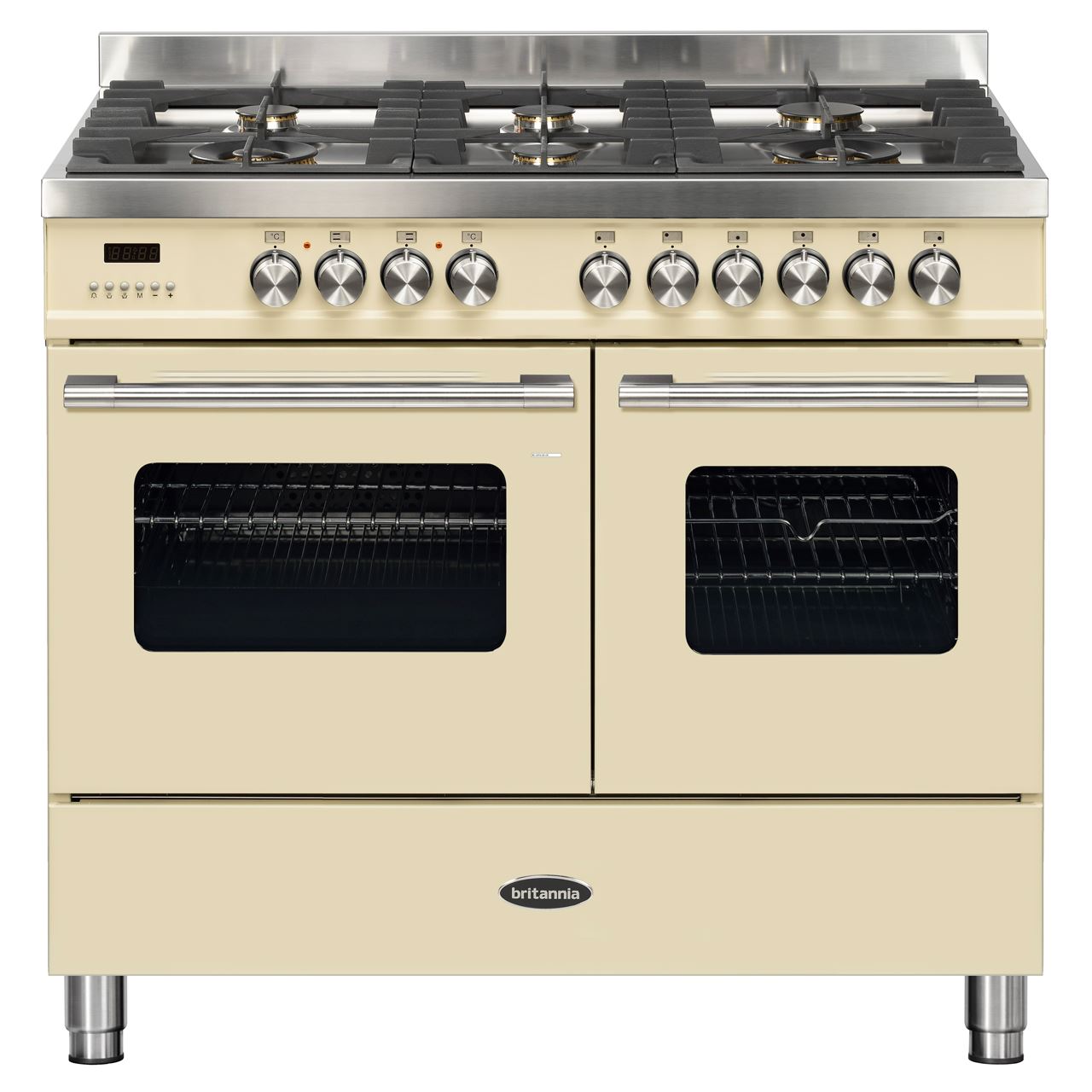 The Perfect Cooking Option No Matter The Dish
The first feature is the meat probe which is included in the first oven and allows you to monitor the internal temperature of a joint of meat in real time. On many occasions, joints of meat are cooked blind meaning there is no real indication as to whether the inside of a joint is adequately cooked. Often we will resort to removing the joint from the oven and cutting it open to get visual confirmation that it is cooked. This is an often messy and disruptive step that can be avoided with Britannia's meat probe - simply pierce the joint with the probe and the thermometer reading will indicate when the desired temperature has been reached.

An excellent feature of the XG range is the rotisserie spit which can be found in the right-hand oven cavity. Rotisserie cooking allows you to cook large pieces of meat evenly while giving them repeated and thorough exposure to heat thus allowing your meat to completely cook in its juices. If you like your meat juicy and moist then the XG will spell an end to dried-out and flavourless over-cooked meats.

To top off the XG's extensive cooking capabilities, Britannia has included a rather tidy grilling draw which can be used to quickly add texture and extra flavour to food. Grilling is a great healthy alternative to methods like frying especially for meat because the caloric content is reduced as fats melt off and are collected underneath the grill. As with the two main oven cavities, the grilling shelves are held in place by Britannia's game-changing telescopic runners which smoothly extend and are capable of supporting grill trays even when they are drawn fully out. Telescopic runner shelves come are worth their weight in gold because they allow you to safely gain access to your food in order to baste or glaze it without running the risk of burning yourself.
A Look To Suit Every Kitchen
In true flexible form, Britannia offers customers the choice of customising the Delphi XG with either a gas burner or induction tops. Both fuel types have their merits but if you are a traditionalist and love the control and feel of gas then you'll be glad to know that Britannia uses brass burner caps which provide optimum heat distribution from burner to pan. They are also prized for their ability to resist corrosion and markings so you can be sure that your hob top will look clean and unstained for years to come.
Britannia has launched the Delphi XG Rangecooker in four different goss colours including steel, cream, black and red which will satisfy a wide range of aesthetic preferences. One of the crowning achievements of this range cooker is that despite the formidable capacity and cooking power, it packs, a cool "A" energy rating which means that it will be kind on your energy bills and the environment!
Getting the best range cooker for your kitchen is often challenging, even once you have picked the Britannia you still require great customer service and delivery options in Lisburn. At Electric World you can get the Delphi 110cm XG Rangecooker with great service and a guaranteed excellent price, click here for more information.